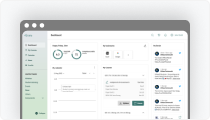 PREMIUM
Edify - Student Portal Template
Quickly build, customise, and launch a new portal.
This premium portal template enables you to build, customise and launch a new portal for Higher Education.
Based on best practice website design and implementation, the template comes pre-packaged with a range of page layouts and components to build a beautiful and functional portal with ease.
The template utilises Funnelback Search for content discoverability, Datastore Data Services for content personalisation to authenticated users and Connect Integrations to integrate and collate LMS and SIS data in one friendly location.
Core functionality included with this template:
Header with search form
Primary navigation
Mobile and Desktop compatible Burger menu
Page Banner
Breadcrumb
Content page aside with navigation and related links configuration
PWA Install Prompt
User menu
Widget Grid
Components included with this template:
Calendar
Social feed
Courses
Bookmarks
Notifications
GPA
Financial Credits
Personalised Document listing
Personalised Email listing
Component building blocks provide flexibility with design and branding and personalised configuration of Dashboards and pages.
Built on modern development framework providing, your in-house development team, full access to the code to extend and modify the fully-responsive layouts as your needs change over time.
The template is flexible and easy to customise to your specific needs. It is exclusive to Squiz customers only.
| | |
| --- | --- |
| Type | Matrix site template |
| For | CMS (Matrix) |
| Min. Matrix version | SaaS |
| Framework | Generic |
| Requires | Datastore Data Services Connect Integrations Search (Funnelback) |