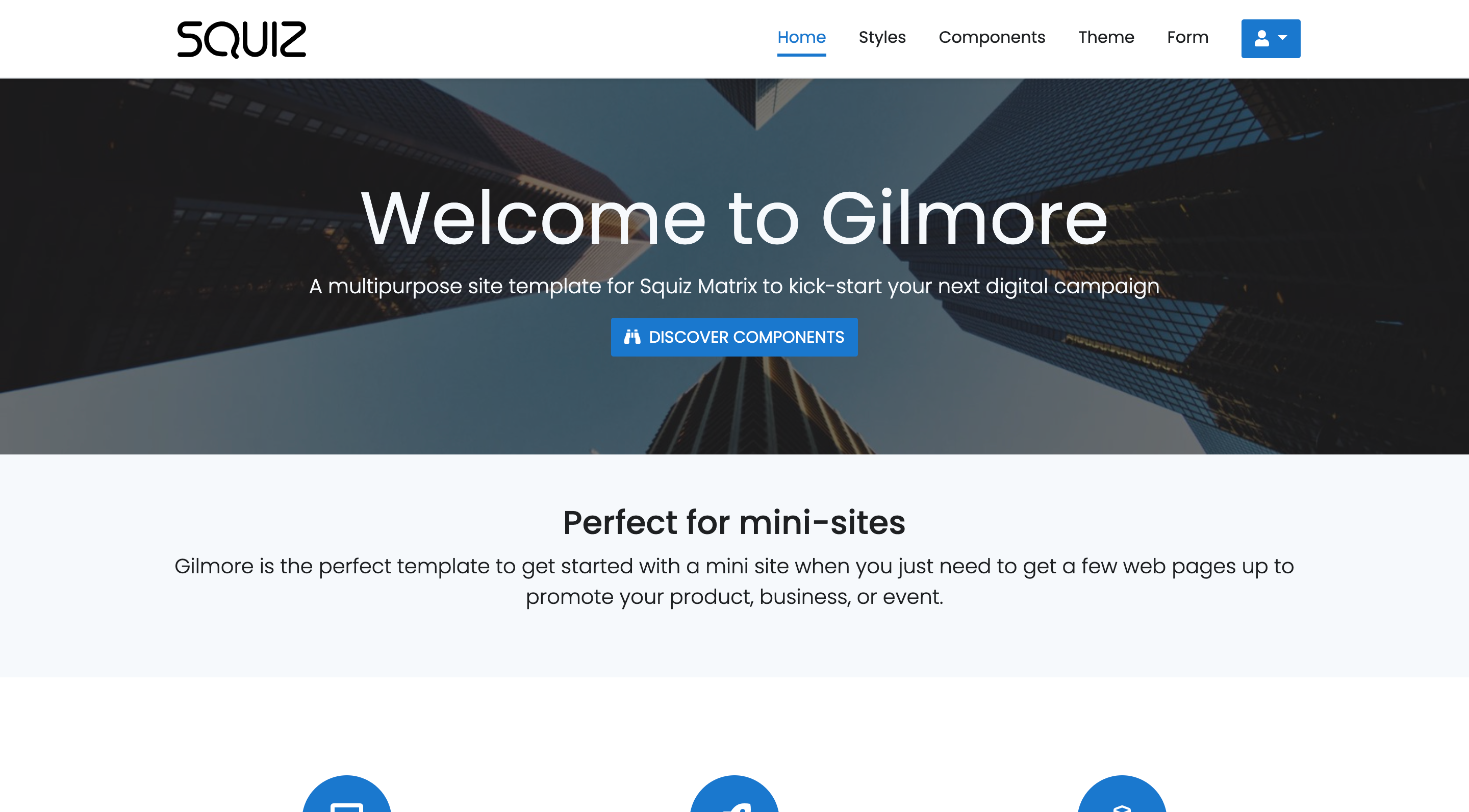 Gilmore - Multipurpose Minisite Template
A simple, clean, and extendable multipurpose minisite template.
Gilmore is a simple, clean, and extendable multipurpose template that lets you quickly build and launch a new minisite in Squiz Matrix.
The template is built using Bootstrap 4 and uses Font Awesome 5 icons, which enables developers to easily customise and extend the design in any way they want.
The template comes with a range of components out of the box including:
Accordion
Tabs
Image slider
Call to action section
Hero banner
Multi-column content
It also features site and page level metadata fields for editing the social media links, footer content, and top and bottom padding size around the content.
The template can easily be extended with more components from the Squiz Marketplace.
Click the Download button on the right to download the template file to your computer.
In the Matrix administration interface, select Import Assets From XML from the 'Tools' icon menu.

In the Import XML File field, click the Choose File button, and locate and select your downloaded template file.

( Optional ) Using the Import Asset under field, choose a location to upload the template in the asset tree on the left. If you leave this field empty, Matrix will import the template at the root level.
Click the Import button to start the import process. Once the import process is complete, the assets are created in Matrix and are ready to use.
Apply a URL to any site assets that were created by the import process:

Once a URL has been applied to all site assets, you can preview the site and start adding content.
For more information on how to use, configure, and extend website template implementations, please visit the Squiz Matrix Manuals.
Type
Matrix site template
For
CMS (Matrix)
Version
1.1.1
Min. Matrix version
5.5.2.0
Framework
Bootstrap 4
Font Awesome 5
Training