PREMIUM
Program Finder - Search Template
Program Finder Template for Funnelback is the only out-of-the-box program finder that is built on the proprietary search algorithm that has been serving higher education for over 15 years.
This premium search template enables you to customise and launch a new search results page targeted to your industry.
Based on best practice website design and implementation, the template comes pre-packaged with a range of features to build beautiful and functional search results pages with ease.
The template is flexible and easy to customise to your specific needs. It is exclusive to Squiz customers only.
Funnelback for Program Finder Template
The Program Finder template for Funnelback is built upon best practices in UI and UX requested time and time again from Higher Education clients.
The out-of-the-box template makes it easy for you to give your visitors modern search and browse features that match the look and feel of your website and accomplish tasks quickly. Do you use third party course directories? Our technology is CMS agnostic, uniting all types of content from WordPress, Drupal, Acalog, and more.
Features
Browse and search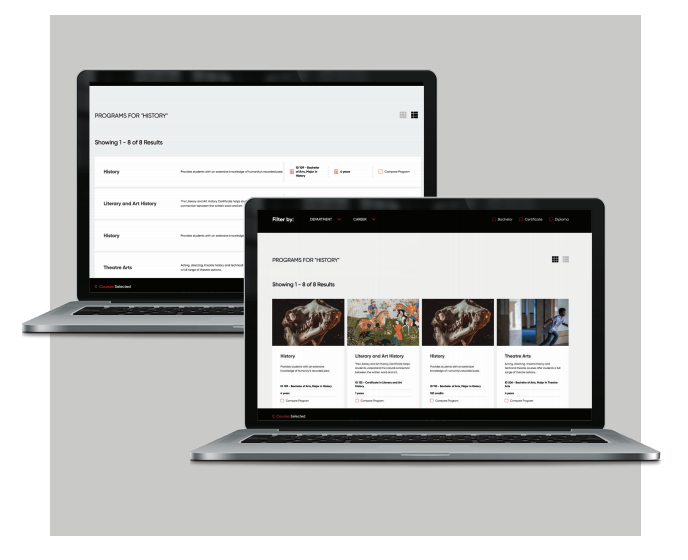 The way we browse and evaluate information is unique to the individual. A layout that may be acceptable for one generation could be frustrating to another.
Providing the option of search and navigation allows the end-user to choose the path most effective and clear for them.
With Funnelback Program Finder, you're utilizing a search engine with everything built-in. Spelling mistakes, word expansion, accurate ordering, are all included.
Search filters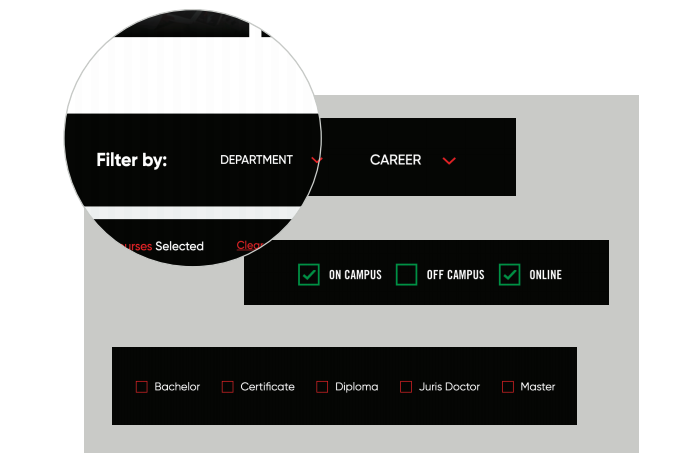 Research from over 700 prospective students found a lack of program and course search options based on various filters was one of the main issues faced while undertaking the course search task. With the diversification of learning options, this trend is set to continue.
Funnelback's faceted navigation is quick to configure, making it easier for prospective students to find a program or course that suits them.
Concierge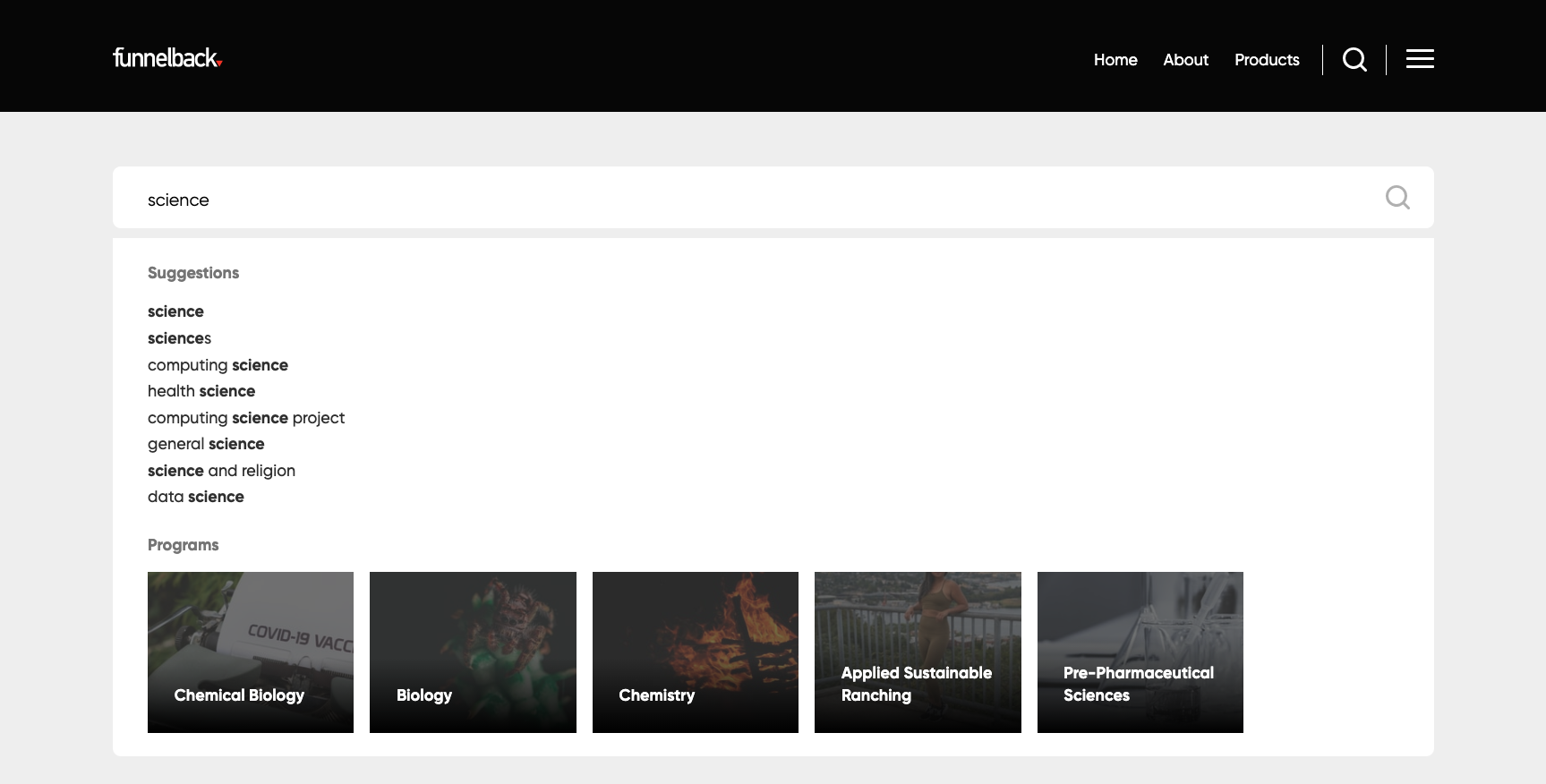 Using Funnelback's auto-suggest feature, visitors can navigate straight to program information from the search bar. This is the most effective way to shorten the visitor's journey and improve user experience.
Search-as-you-type reduces the chance of spelling mistakes, helps to prevent users from arriving at dead ends, and allows the institution to direct attention to the highest value program pages.
Configurable result summaries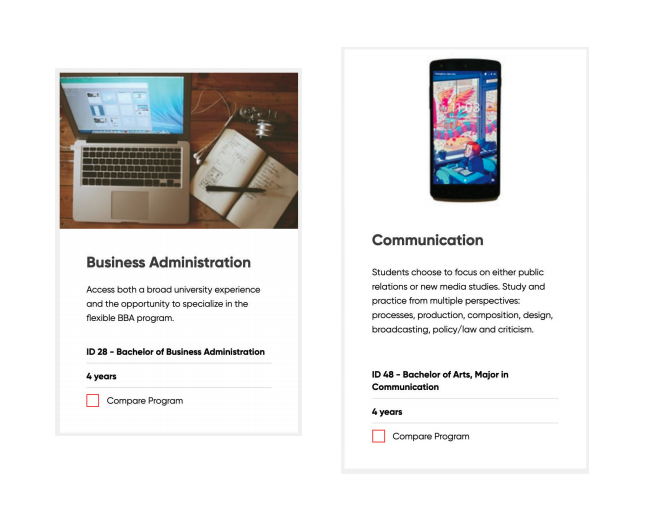 Different content types require an intelligent presentation. Funnelback's configurable result summaries give more context to the visitor than a title or short description. Adding information like length, course code, mode of learning, entry requirements or price, will help the visitor navigate to a page most relevant to them, reducing frustration and increasing conversion.
Compare and shortlist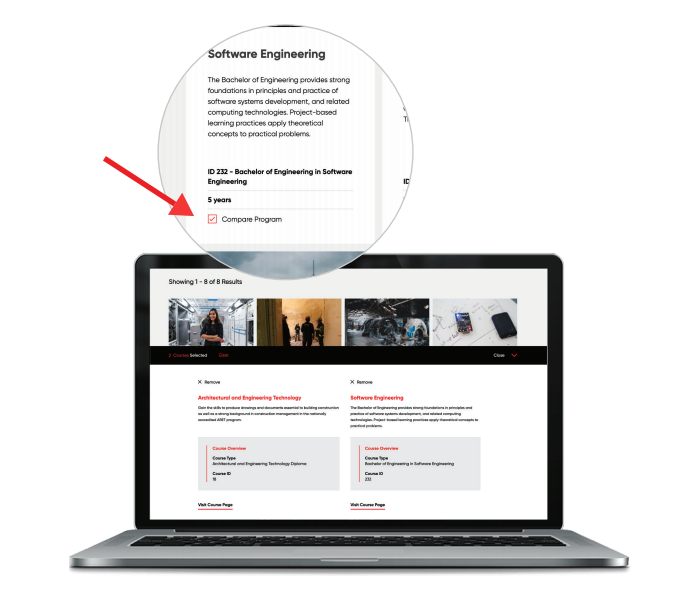 A comparison tool is designed to help students evaluate the differences between degrees, shortlist those that are most relevant to ultimately make a meaningful decision.
Programs often have subtle differences that are hard to ascertain without a comparison view. Compare and Shortlist can be integrated with your CRM to enable users to email their choices to themselves
| | |
| --- | --- |
| Type | Search template |
| For | Search (Funnelback) |
| Min. Funnelback version | 16 |
| Framework | Generic |